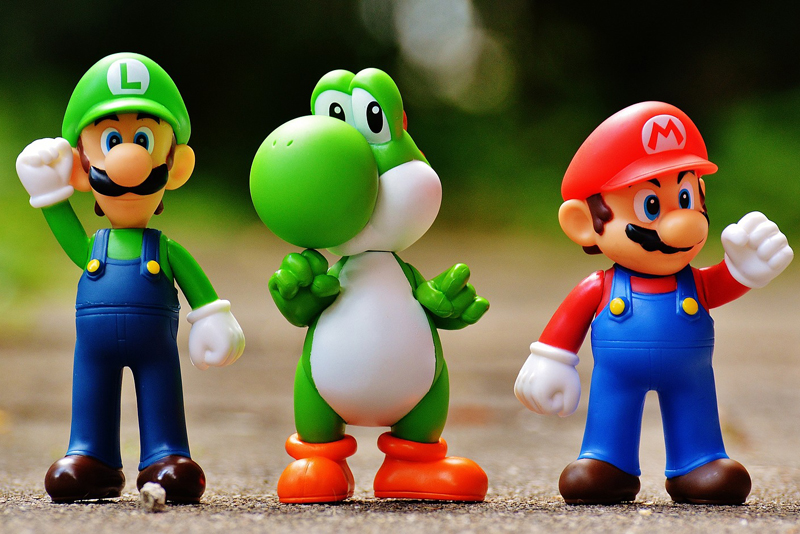 The Nintendo Wii is slated to be released in November 2006. Read on for updates about the console and its capabilities.
Buying Legacy Games on your Wii


One of the best parts of owning a Wii is that you can instantly download many fun legacy games to play, for very low prices. Catch up on the Zelda timeline!
Component, Composite, S-Video Cables


It can be really confusing to know what cable to use for your Nintendo Wii or other console system. Here is what the different types of cables are.
GameFly for Nintendo Wii


GameFly is a gaming console game delivery service. Just like NetFlix delivers movie DVDs to your doorstep for quick, easy watching, with no late fees, GameFly delivers video games for you to play.
Getting a Complete Nintendo Wii System


If you're going to have a Nintendo Wii under your Christmas tree, make sure you have all the parts you need! Kids hate it when they open a toy and it says "batteries not included" ... and you have no batteries!
Kuma GameCube Wireless Controller


If you've got a Wii and want to play GameCube games, then you have to have a GameCube controller. You can't play the games with the Wii controllers. Kuma's wireless controller works without any issues!
Mii Channel Profiles - Wii Console


The main interface of the Nintendo Wii is divided up into channels. One of the more important channels is the Mii channel, where you set up gaming profiles.
Nintendo Revolution Update


The next version of Nintendo´s console after the GameCube is code named Revolution. Learn more about the progress of this much better multiplayer-enabled system.
Nintendo Revolution Update - Mar 2006


The XBox 360 is flying high. The PS3 will be out soon. What is the status of the Nintendo Revolution?
Nintendo Wii and Legacy Games


One of the best features of the Nintendo Wii console is that it can play vintage games. With online downloads, you can reach back through thousands of games - back to the origins of Nintendo!
Nintendo Wii Channel List


The Nintendo Wii main interface is designed based on channels. You have boxes to choose which channel you want to use.
Nintendo Wii Console Review


The Nintendo Wii is the most inexpensive of the current generation of gaming consoles. At only $250, it provides motion sensing controllers and 480p graphics.
Nintendo Wii Graphic Quality


The Wii is part of the next generation console trio along with the XBox 360 and the PS3. Just how does its graphics compare?
Nintendo Wii U Console


The Nintendo Wii U Console is finally a Wii which stands shoulder-to-shoulder with the XBox 360 and PlayStation 3. It offers HD video and can still play old-style Wii games as well.
Nyko Wii Remote Charge Station


The Nyko Wii Remote Charge Station is a way to keep your Wii remotes charged without going through 800 batteries in a row. The unit is a mixed bag - I'm reviewing this after 3 years of use.
Official Nintendo Wii Wheel


Really, this is simply a plastic circle that you stick your Wii remote controller into. It is solely about hand feel, about feeling a "wheel" in your hands as you drive. That being said, it is REALLY helpful!
Original Wii vs Wii U


If you're trying to decide between buying an original Wii and the Wii U unit, here is what you need to know about how the two compare.
Playing GameCube Games on your Nintendo Wii


If you've got a Nintendo Wii, one of the great features is that it'll play Nintendo GameCube games. Even though those discs are much smaller than the standard CD size, slide them right in! Here is exactly how to play GameCube games on your Nintendo Wii.
Proper Care for your Nintendo Wii


If you own a Nintendo Wii you know how incredibly fun it is to play with. Make sure you care for Wii properly so that it lasts you many years! Here is how to do that.
Selling your Used Wii Console


So you've finally upgraded to a Wii U, and you're ready to send your original Wii to a new home. What steps do you take before you send it off? And what are your best options for selling it?
Synchronizing your Wii Remote


If your remote goes with you to a friend's house, or if you get a new Wii remote, you will have to sync it to the Wii. Here is how you sync your Wii remote.
Transferring from a Wii to a Wii U


If you're upgrading from a Wii to a Wii U, you'll want to move all your data from your old Wii system to your new Wii U system. Here is how you do it.
Two Player on the Nintendo Wii


Almost all Wii owners have an interest in being able to play multi-player Wii games with family and friends in their home. What do you need in order to play with others?
Wii Console Bundle 2011


The 2011 version of the Wii Console Bundle includes a Wii Wheel, a remote plus nunchuk, and Wii Mario Kart. At $149.99, it is quite a savings when compared with the PS3 and XBox 360.
Wii Everbody Votes Channel


The Wii has a channel where you can vote on polls both silly and meaningful. Take a look at the free Everybody Votes channel!
Wii Fit Balance Board Sleeve


If you have a Wii Fit game with the balance board, it's good to keep the balance board in something safe while you carry it around or store it. This sleeve does a reasonable job.
Wii Gaming for Better Health


The Wii has been out for over a year and is STILL selling out in stores. What's the secret? From young to old, the Wii is being proven as a great way to improve your health - no matter what your age!
Wii HDMI Connector


First, to be clear, a Wii does NOT output actual HDMI level signals. It only outputs 480. But this lets you plug your Wii into a HDMI plug at that quality level.
Wii Legacy Game Downloads


The Wii lets you use your internet connection to download games from a variety of legacy systems. This includes the N64, SNES, NES and Sega Genesis!
Wii Mail Channel


The envelope icon on the Wii's main menu screen brings you into the mail area of the Wii's interface. This isn't exactly a channel, but is a message center.
Wii Nunchuck Controller


In martial arts, nunchucks are a pair of short wood rods connected with a chain that ninjas whirl around their bodies :) With the Wii, the nunchuck is a single controller held in your off hand.
Wii Preorder Information


If you are trying to get your hands on a Nintendo Wii gaming console, pre-ordering it before its November 19 2006 release, make sure you're online Thursday, November 9th.
Wii Remote Controller


The Wii Remote Controller is shaped like a standard TV remove, and has motion sensing ability. You wave it around, and your on-screen character waves their wand!
Wii Shop Channel


The Wii shop channel lets you buy new channels and games for your Nintendo Wii. Just be prepared to enter your credit card number.
Editor's Picks Articles
Top Ten Articles
Previous Features
Site Map
Content copyright © 2018 by . All rights reserved.
This content was written by . If you wish to use this content in any manner, you need written permission.
Contact Lisa Shea for details.